In compliance with recommendations set out by the Government of Canada, the Province of BC, viaSport, and the BC Recreation and Parks Association, recreation programs will operate under new protocols, including reduced occupancy limits, cleaning standards, daily health screenings, and first aid adaptations. 
Some programs may be cancelled due to low registration numbers. Individuals are advised to register early to ensure programs of interest continue as planned. Residents are encourgaged to check Kamloops.ca/PerfectMind for updated programs and schedules.
2022 Winter Activity Guide
The 2022 Winter Activity Guide is now available online and will be distributed as a hard copy in Kamloops This Week on Wednesday, December 1.


The Activity Guide can be viewed online by selecting one of the following options:
​Search For Recreation Programs
General Registration:
Tuesday, December 7, 2021
Online - 6:30 am | In Person/Phone - 10:00 am
Register Using PerfectMind
Registration for programs from the Activity Guide will take place in PerfectMind, our online registration system. With this system, simply search, register, and pay using any online device. 
How to Read the Guide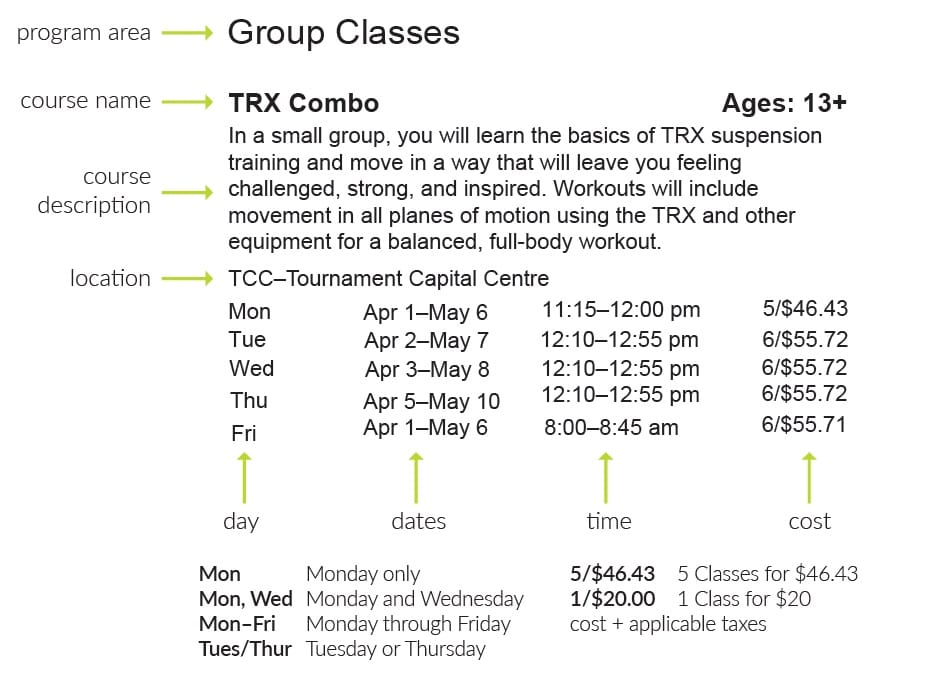 Learn More 
How to Register
Go Online
Visit Kamloops.ca/PerfectMind to register online. You will need to set up a PerfectMind account before you can register. You can setup your new accounts at anytime, but we recommend it be created prior to registration day. 
Call Us
Call our Customer Relations Representatives (CRRs) at 250-828-3500.
Please note: Online registration with PerfectMind will be faster than phone or in-person. We appreciate your patience and apologize for any inconvenience.
Visit Us In Person
Facility
Address
Hours
Tournament Capital Centre
910 McGill Road
Monday to Friday: 5:30 am–9:30 pm
Saturday to Sunday: 7:00 am–8:00 pm
Kamloops Museum & Archives
207 Seymour Street
Tuesday to Saturday: 9:30 am–4:30 pm                 
Westsyde Pool & Fitness Centre
859 Bebek Road
Monday - Friday*: 6:00 am–7:00 pm
Saturday & Sunday*: 7:30 am–8:30 pm
Hours are subject to change due to operational adjustments with COVID-19. 
*Please note - the hours listed reflect times when registration is available at Westsyde Pool & Fitness Centre, and do not reflect operational hours. For operational hours at Westsyde Pool & Fitness Centre please visit the Aquatics page.
Launch PerfectMind
Refund and Withdrawal Policy
A $10 administration fee will be charged for all program withdrawals, excluding memberships. Check each program for specific refund policies. Once a program begins, a pro-rated refund will apply. Administration fees will be charged. Refunds will not be given for withdrawals from cooking classes within seven days of the class start date.
Programs may be cancelled if not enough people register. Most programs will run regardless of the weather; however, we may occasionally have to cancel programs due to poor weather. If your program is cancelled for this reason, you'll be issued a refund.
Activity Guide, activities, recreation program, rec program, recreation activities, registration, activity registration, recreation registration, program registration, perfect mind, perfectmind, guide