We value all members of our diverse community and work to meet the needs of everyone. We are committed to removing barriers that might keep you, or someone close to you, from enjoying all of the great things Kamloops has to offer.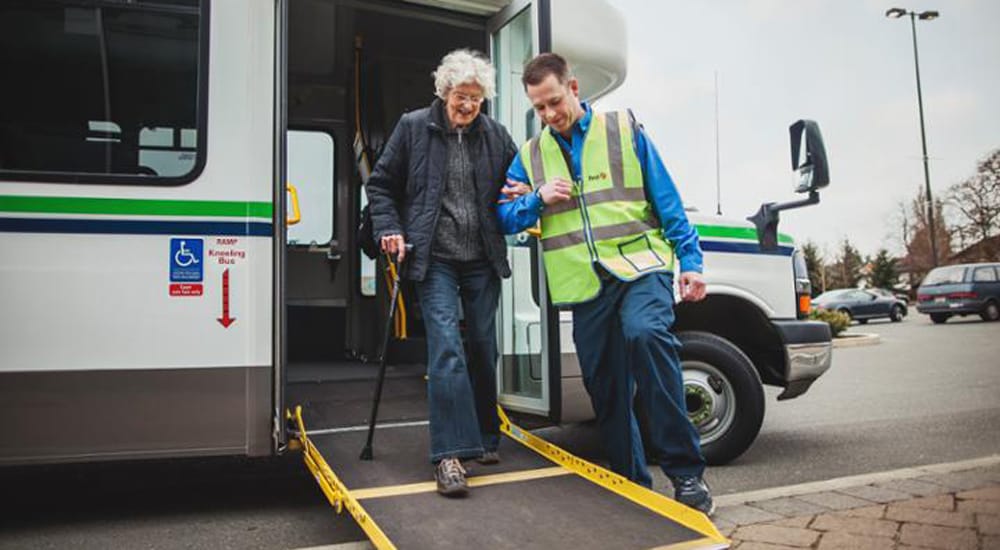 Accessible Public Transit 
Kamloops transit - bus schedules, fares, transit exchanges, and more
handyDART - door-to-door service with assistance - 250-376-7525
ProPASS - a one-year bus pass purchased through your employer
Accessible Parking - Parking Permits 
Accessible Parking Permits - temporary and permanent accessible parking permits are available through People In Motion
Pedestrian Accessibility - Accessible Street and Sidewalks
Accessible pedestrian signals (APS) - helping blind, low-vision, or deaf-blind pedestrians to safely cross streets with the aid of audio and vibrating signals at signalized intersections. The City installed 18 accessible pedestrian signals in 2017 and will install approximately 32 more by the end of 2018. Locations are chosen in consultation with various agencies, including the Canadian National Institute for the Blind (CNIB), the White Cane Club, and the Mayor's Advisory Committee for Persons with Disabilities.
Curb cuts - many existing curb ramps in Kamloops have been installed upon request. If there is a sidewalk you think needs a curb ramp, let the City know. Our engineers prioritize curb cut requests to areas with a high level of pedestrian traffic, including:

collector and arterial roads
bus routes
schools
community centres
shopping areas
Snow Angels - volunteer program to assist seniors with limited mobility to clear their sidewalks.
Garden Refuse Pickup Program - volunteer program to assist seniors in financial need dispose of yard waste.
Social Planning Council - the Social Planning Council and its subcommittees advise City Council on issues that can impact your quality of life. 
Access Kamloops - a free directory connecting people with not-for-profit resources. Supported by the United Way and the City of Kamloops.
eway Kamloops - this easy-to-use, electronic resource is for everyone in Kamloops looking for support.
Let's Go - Activity Books are used to help prepare children with autism for the sights and sounds they might experience when visiting City of Kamloops facilities and parks.
The City of Kamloops has developed an Accessibility and Inclusion Plan intended to identify, prevent, and remove accessibility barriers that limit people with disabilities from participating fully in activities of daily living in Kamloops.
The City's goal is to be among the most progressive cities in Canada for people with disabilities—a place where disabilities are not barriers to living full lives and contributing to the community.