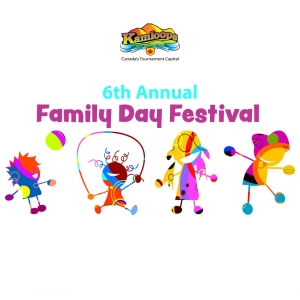 The Tournament Capital Centre will transform into a FREE festival for families with children of all ages!
Community organizations and businesses will bring a wide range of family-focused festivities into one place. Festival goers will have an opportunity to get creative with arts and crafts, have their faces painted, experience live performances, learn about all things science, try new sports, and play musical instruments. There will be something for everyone!
In addition to music, games, sports, and crafts, there will be opportunities take home some great stuff. Families can pick up "experience passports" at the door, and all completed passports will be entered to win a prize. Think sustainably, and don't forget to bring your own eco bags from home to carry all your goodies in.
The Kamloops Food Bank will be accepting donations of non-perishable food items at the door.
Participating Vendors
HealthFare Restaurant
Gyldi's Pizza
The Street Circus
Fun Zone Inflatables
Face Painting by Denise
First Comes Love Photo Booth 
Kamloops Arts Council 
PacificSport Interior BC 
4Cats Arts Studio 
Kamloops Tennis Centre 
Kamloops Squash Association 
Kamloops Community Football 
Kamloops Minor Baseball 
Canucks Autism Network 
Lil Monkey's Treehouse 
Big Little Science Centre
Western Karate Academy 
Black Maria 204 Cadets 
Community Safety Lost Child Booth 
Kamloops Pride
St. John Ambulance 
DAVIDs Tea 
Canadian Scholarship Trust
City of Kamloops Sustainability
Kamloops Minor Fastball
Marta's Tower
Location:
Tournament Capital Centre (TCC)